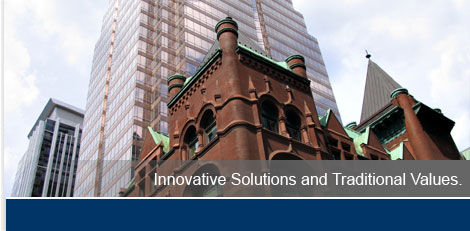 Welcome
Edenbrook Hill Capital ("Edenbrook" or "EHC") is an asset-management firm that creates and manages innovative financial vehicles and products with conservative risk characteristics. EHC specializes in favourable risk/return strategies which emphasize strength and stability. EHC's mission is to use credit and asset based structured finance techniques to create transparent and customizable financial products with favourable risk-return characteristics. Our history of successfully repaying investors over $2 billion in spite of 2007's volatile credit markets (the "Credit Crunch") is a testament to the strength of our investment platforms.

Edenbrook Hill Capital was founded in November 2005 by Mark Adams. Mark has 11 years of corporate and structured finance experience at a senior management level, including his tenure at a major credit agency, and broad legal and corporate experience.
As its first project in 2006, EHC worked with Dundee Securities Corporation to create and fund Skeena Capital Trust ("Skeena"). Skeena had over $2 billion in funding through either the Canadian commercial paper market or in cash. Although Skeena was impacted by the volatile market conditions that began in the summer of 2007, EHC was part of the team that implemented a successful restructuring of Skeena which was completed in December 2007. As a result, Skeena was the first of the major Canadian non-bank affected ABCP conduits to restructure, with investors receiving nearly 99% of their principal and interest owing as of August 15th, 2007.
The successful restructuring of Skeena demonstrates EHC's use of a combination of financial modeling and legal structuring technology to create highly rated credit-resilient investments for Canadian institutional investors that performed well even during extremely volatile market periods. In recognition of Edenbrook's expertise in structured finance assets, several major financial firms have retained EHC to assist in valuations on their affected non-bank ABCP holdings.
Despite the volatile conditions that began in 2007, EHC believes that structured finance products will continue to play an increasingly important role in the institutional and retail investment community as traditional securities are replaced. However, while they offer many benefits, such new products, asset classes, and risks can be difficult to analyze and evaluate for many investors. Edenbrook offers investors the expertise to understand and invest in these complex but rewarding structures. EHC understands these products, and will design strategies that allow investors to tailor their risk/return preferences.
EHC is now focused on a series of projects that will lead to the launch of new, innovative products for investors in the near future. These products will feature enhanced transparency and even greater resiliency, while at the same time offering superior returns. EHC believes that working in conjunction with investors, and creating customized solutions, is the best way to achieve goal congruence while giving investors the desired level of transparency. At Edenbrook, we believe in responsible innovation, and stress test our products in order to give investors an optimized balance of safety, security, and return.
We welcome you to the website and look forward to serving the investment community in the years ahead.
---
Introduction
Prior to founding EHC, Mark and Rebecca Adams had extensive experience in the global credit markets with a large variety of corporate and structured products. They have worked on rating a large number of corporations, structured projects, project financings, CDOs, etc. in Canada and the U.S., and in seeing the development of structured products generally. They saw a need for a specialized company that focuses on structuring and portfolio management, evolving away from the typical homogeneous investment products being offered, towards more tailored and customized solutions. This will ultimately benefit investors through better understanding of their structured investments along with the increased level of transparency that investors demand.
The pace of innovation and emerging assets has been accelerating on a global basis, and the creation of related products requires extensive knowledge of legal, structural, and credit issues. Edenbrook has therefore assembled a team that can deal with the complex issues that are associated with such products.
The Edenbrook Team is comprised of people with skills in law, finance, derivatives, structured products, IT systems, and financial modeling & analysis. This team is designed to help investors understand and benefit from structured products that offer significant rewards but which also require detailed analysis.
Edenbrook will continue to focus on creating stable, resilient structures that will allow market participants to better understand and profit from market opportunities. EHC has the capability to structure, model and analyze a wide variety of financial products with quantitative and fundamental credit and leverage characteristics. EHC's mission is to use credit and asset based structured finance techniques to create financial products with favourable risk-return characteristics that are highly transparent and fully customizable.